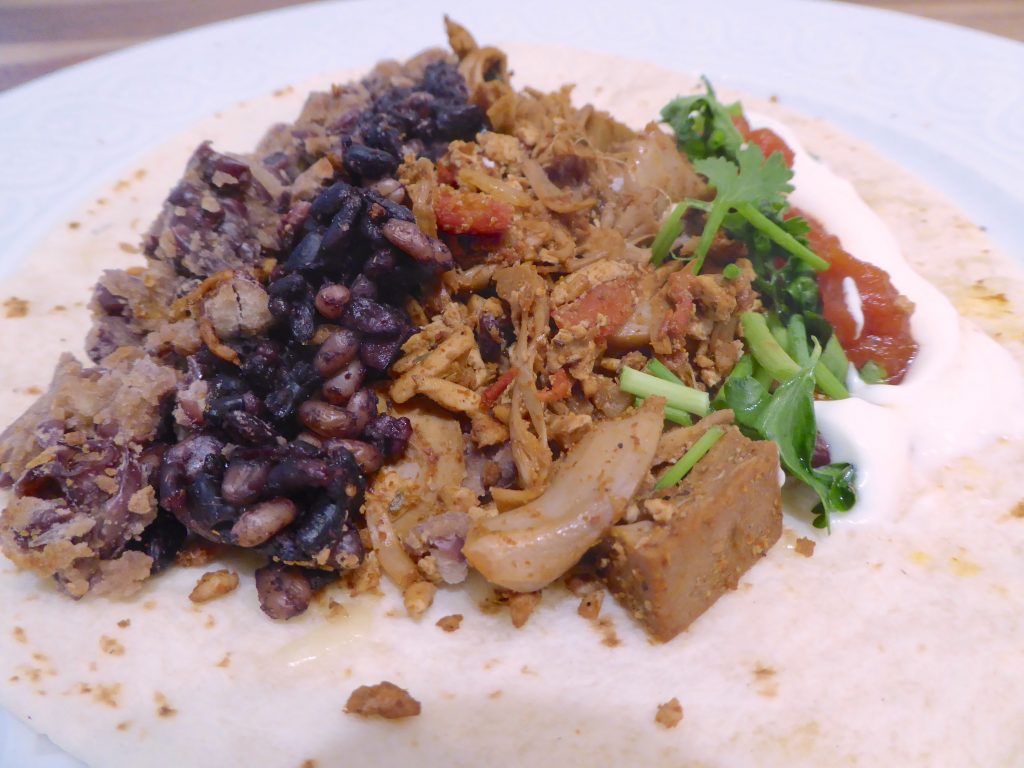 Multi-textured vegetarian 'burrito' fusion with Jackfruit, Pressed Tofu, Freekeh, and Adzuki beans are seasoned here with a variety of yummy spices.
Improvised music – Texture
In keeping with this month's theme of textures, this month's improvised music features myself on piano and preparations (Amongst many things, preparations include sticky tack and video tape for percussive and string like sounds) in collaboration with David Story (percussion) and Adam Scime (Double Bass). The recording was a live recording taken at the Audiopollination improvised music series in Toronto in October 2017.
Improvised Food – The concept
Green jackfruit is not ripe yet, so it's not sweet. Instead we prize it for its texture resembling shredded meat as it can add a hearty texture to an otherwise mushy bean burrito. Combine that with grated pressed tofu (a firm tofu that has less water content), you've got a winning combo.
Whole grains Freekeh and Black rice here add the extra benefit of nutrients from their hulls than plain white rice and give a chewy whole grain texture and beautiful colorful look.
Adzuki beans add another dimension of protein and nutrients. Use any bean (black bean, etc.) you like though.
Beginning fromthe left of the photo, we have smashed seasoned adzuki beans, seasoned purple rice and freekeh filling, seasoned jackfruit tofu filling, and toppings.
Jackfruit Tofu main filling recipe
Ingredients:
1 can (567g can, or 280g/9.9oz drained)  of green jackfruit in brine (I used Trader Joes brand), drained
175 grams Pressed tofu, gratedusing the big holes of your cheese grater
2 small/medium fresh tomatoes on the vine, diced roughly
Spices: You can definitely improvise here. I used Clubhouse brand Texas spice, and Clubhouse brand Chilli spice. I also used smoked and regular paprika, as well as ground cumin. Feel free to use a similar seasoning mix.
Avocado Oil (or cooking oil of your choice)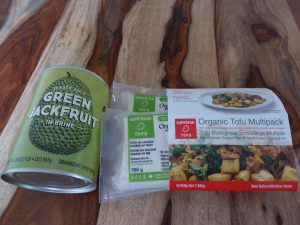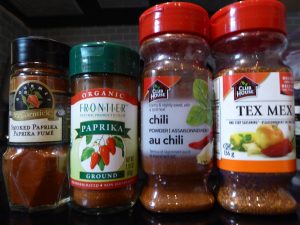 Directions: (adjust heat settings according to your stove)
Heat a bit of oil (approximately 1 ½ tbsp.) on a non-stick pan on medium-high heat. When the oil is hot, throw in approximately 1 tbsp of Texas spice, half tbsp. of chilli spices, half tbsp. of cumin, and a dash of smoked paprika and regular paprika. Heat for a minute to bring out the flavours.
Turn down the heat to medium. Throw in the grated pressed tofu, and stir quickly to coat spices. Add chopped vine tomatoes and green jackfruit and with your cooking utensil, try to break apart the jackfruit as much as you can. Continue to cook at medium-low heat. Adjust spices, and add salt to your liking if necessary (If you use jackfruit in brine like me, you won't necessarily need to add any or much salt) until tomato juices start to run drier and jackfruit and tofu mixture look like it has absorbed the liquid.
Freekeh Purple Rice Filling:
Make according to how much you want. Approximately ½ to two-thirds of a cup each of equal amounts of dry Freekeh and Purple rice (I used a short grain purple rice you can find in the Asian grocery stores, but you can use any whole grain rice)
Spices I used: I had a premixed Gumbo seasoning. If you don't have gumbo seasoning, feel free to use any mild seasoning that you would imagine will complement the jackfruit tofu filling.
Directions:
Presoak freekeh for about 4 hours or until overnight and rinse rice. Discard water (water a plant). Place rice and freekeh together in a rice cooker and add approximately ½ tbsp. of gumbo seasoning. Place about double the water, but according to rice cooker instructions.
Red Adzuki beans filling:
(You can make more or less according to how much of this filling you want) 
Directions: Soak desired amount of beans overnight. I used approximately 2/3 cup. Rinse beans. Boil beans. Turn down heat and simmer until cooked (about 60 minutes). Drain the beans and smash them. Heat a non-stick pan on medium heat. Put water or oil (to prevent beans from sticking to pan) and put smashed beans . Lightly sprinkle with a light dusting of ground cumin, and a bit of Texas spice and chilli spice. Combine and mix until seasonings are evenly dispersed. Add salt to your taste.
Assembling the burrito:
On a pan or in a toaster oven, heat up a burrito wrapper with grated cheese of your choice ((I used a caramelized onion cheddar but you can use a different cheese) on top (as much as you want) until the cheese just melts.
When the wrapper is warm and cheese is melted, put a spoonful or two of the jackfruit tofu filling, red adzuki bean filling, and freekeh black rice filling. Top with optional toppings below and fold up or roll up and eat. You may need a fork to pick up toppings that fall out.
Vegan? Omit the sour cream and melted cheese. OR use a vegan substitute.
Extra Toppings to place on burrito: (optional)
Toppings you can add include fresh cilantro and green onions, as well as sour cream, and salsa to your taste. This is placed on top of a burrito wrapper with grated melted cheese of your choice.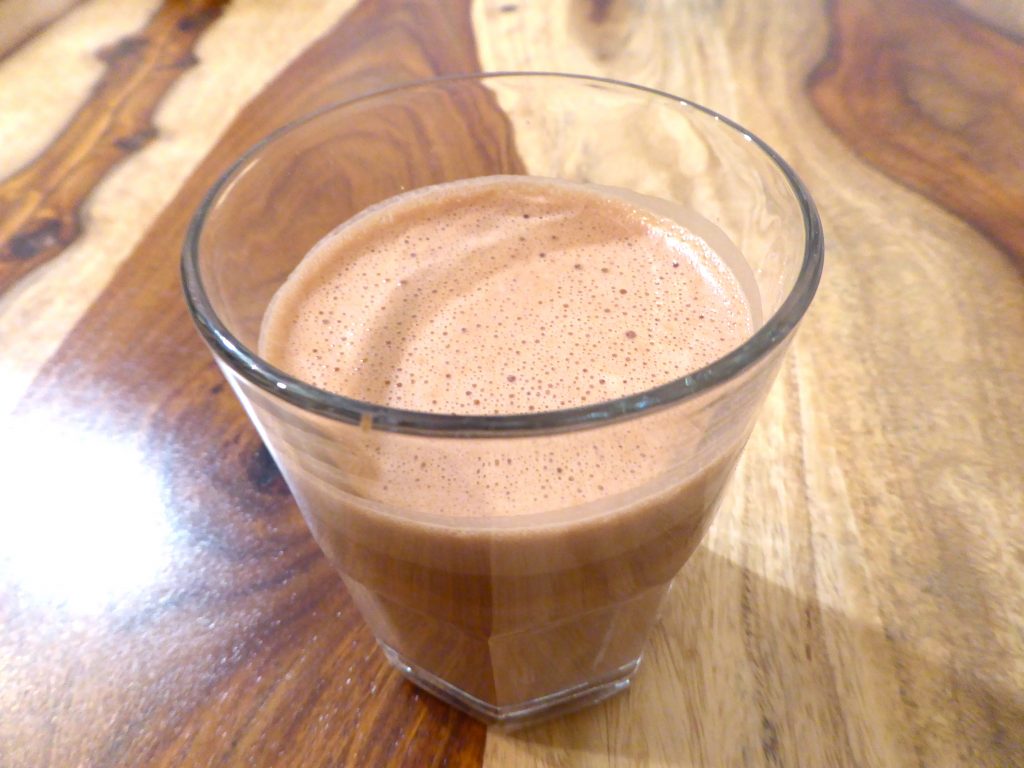 Calling all chocolate addicts. Wish your chocolate milk didn't have refined sugars, was dairy free, and that you could adjust the level of chocolate goodness ?
Today I improvise on the basic recipe for cashew milk. There are so many possibilities. Enjoy plain, or with vanilla and dates, use as a base for a myriad of smoothies, or make a cashew cream for vegan sauces or soups. Here…we're starting simple.. I transform it into delicious chocolate cashew milk.
Cashew milk is in my opinion the easiest nut milk to make – no straining required, no messy nut milk bags or cheesecloths – and you soak the nuts for a lot less time than almond milk. Try making it yourself – it's so easy and tastes so much more real than the cashew milk they sell at the store.
Ingredients:
1 cup of raw cashews (soaked for a minimum of 4 hours)
4 cups of filtered water (1000 ml)
3 ½ to 4 tbsp of raw cocoa powder (I like "giddy yo-yo" brand)
¼ cup grade A dark Canadian maple syrup
Equipment required:
A super high-speed motor blender like Vitamix or Blendtec. This is very important or the texture will not be smooth or as milky.
A bowl to soak your cashews
A jug or container with lid to store your milk in after
Directions: (Makes a bit over 1 litre. Only stays fresh for 4 days. Half the recipe if it's too much for you)
Soak the raw cashews in at least double the amount of water for 4 hours or overnight. Cashews should be bulging, softer and enlarged. Discard water (or throw it in your garden maybe?) and put cashews in a high-speed blender (Vitamix or Blentec). Add 4 cups of filtered water to blender. Add 3 ½ to 4 tbsp raw cocoa powder (Adjust this amount to your taste. Begin with less and add full amount or more if you want it to be more chocolaty). Add ¼ cup grade A dark Canadian maple syrup. Blend on high speed using "juice" function on the Blendtec blender (about 45-60 seconds). Pour into a jug or container with a lid.
Enjoy a cup with music improvisation pairing: "Piano Improvisation No. 1: Jagged Lines and Velvet"