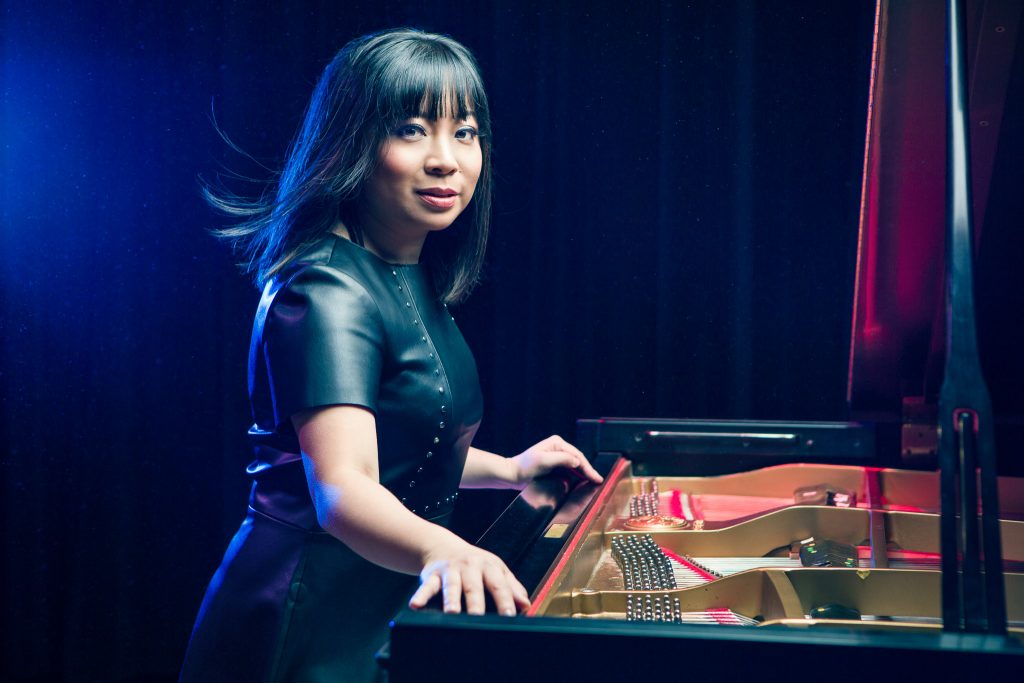 Photo by Shayne Gray
About
Born in Toronto (Rexdale) Canada, Jackie Leung (full name Jacqueline Ching-Ling Leung) is a pianist whose repertoire spans the Baroque era through newly composed music, and has strong interests that lie in widening the dimension of western classical music in the 21st century.
In addition to standard repertoire, she experiments with the fusion of free improvisation in live performance, blurring the lines of musical genres, as well as performances of multiple interdisciplinary directions.
She has performed as a soloist and as a collaborator with instrumentalists, singers, dancers and other artists of multiple disciplines. In her career, she has had the opportunity to perform in various countries across the world, spanning locations in North America, Europe, Central America and the Middle East.
Based in Toronto, Canada, she also engages in social change initiatives focused on creating access to music. She has completed a Doctor of Musical Arts degree in piano performance at the State University of New York, Stony Brook University.
Credentials, Teaching Honors, Grants
Doctor of Musical Arts, performance (S.U.N.Y Stony Brook University)
Master of Music performance (Schulich School of Music, McGill University)
Bachelor of Music performance (Schulich School of Music, McGill University)
Certification for Level One Dalcroze eurhythmics, solfege and improvisation (Lucy Moses School, New York City and Dalcroze Canada)
Certified Advanced Specialist Teacher (Royal Conservatory of Music)
Piano Examiner (College of Examiners, Royal Conservatory of Music)
Gold Medal Teacher award (Royal Conservatory of Music)
Grant Recipient – Music, Canada Council for the Arts (2018)
Community Development
Throughout her career, Jackie has been a strong proponent of community support, individual empowerment and driving social change. Jackie has worked for AXIS Music as their Program and Development Administrator. Previously, she has co-directed two Benefit Concerts (Montreal Heart of The City Piano Program and Save Darfur Canada), which have received coverage from CTV and CKUT and Chacavac radio. She has also volunteered for The Yonge Street Mission in Regent Park Toronto "Musicbox program" which was recognized in the "Making a difference" segment on Global TV. In 2011-2012, Leung was Co-Artistic Director, General Manager and Pianist for The Heliconian Choir and Orchestra in Toronto whose mission included supporting the professional advancement of women in the Arts.
Early years
Jackie demonstrated interest in learning the piano at the age of 6 after eyeing the piano in her home, and had her first lessons with Connie Lam winning 17 prizes from the Kiwanis Music Festival since her original debut at age 7. At the age of 18 she took lessons from the late Andrew Markow, a renowned pedagogue at the Royal Conservatory in Toronto, whose teaching and kindness discovered her an even deeper appreciation for music and inspired her to continue her training in university. In her earlier years, Jackie has been named an Ontario Scholar and was a recipient of the Heather Hamlin music scholarship, was awarded various government grants and bursaries, the Mary Beatty H Scholarship, was a national finalist in the TD Canada Trust Music Competition and won full scholarships for piano to the Toronto Summer Music Festival Academy.